Welcome to
Elizabeth Township
Welcome to
Elizabeth Township
Township of Elizabeth in Lancaster County, PA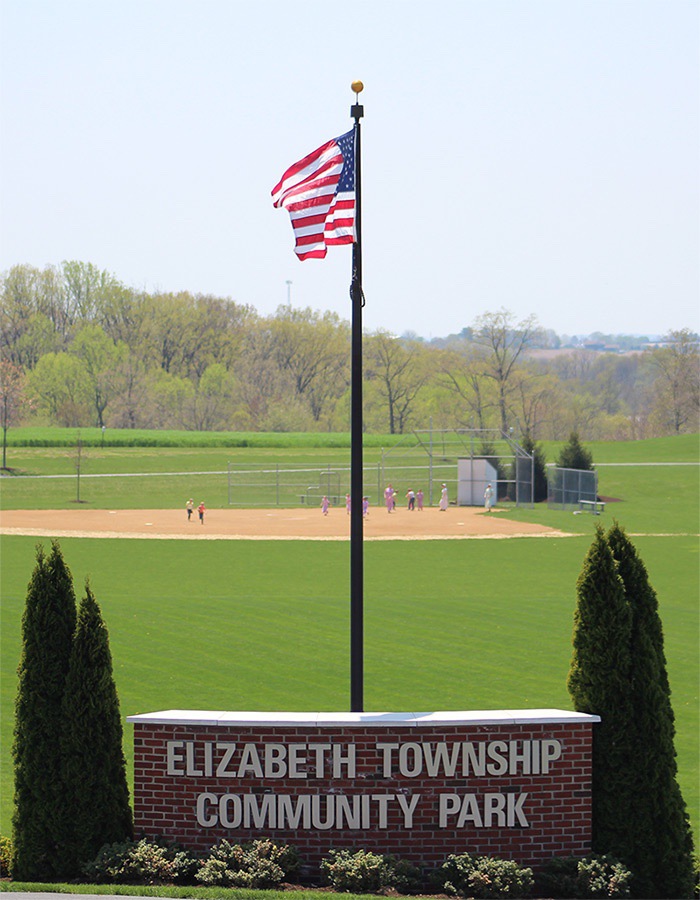 Our History
Elizabeth Township possesses a rich historical heritage. Established in 1757 from what was then Warwick Township, it was split again in 1853 to create the present Clay Township to the east.
The area now comprising Elizabeth Township played an important part in the development of the County in early colonial days. The village of Brickerville dates from 1741, when the area's first blast furnace was built to make cast iron from ore from the Cornwall mines. Stiegel glass manufacturing, dating from 1757, soon grew into an international export. Iron production grew, reaching its peak about 1780 and continuing until 1856. The supplying of charcoal from area forests to feed the furnaces over this period became an important related industry.
Today, Elizabeth Township is a quiet rural community, devoted largely to agricultural, recreational and residential uses. The Township's largest village is Brickerville. Some other smaller villages include Elm, Poplar Grove and Lexington.
Board of Supervisors
Elizabeth Township is a Second Class Township governed by a three-member Board of Supervisors who are elected by the qualified voters of the Township for terms of six years each. Their responsibilities include setting of policy, approval of expenditures, budgets, zoning amendments, care of roads and bridges, hiring of personnel and appointing members to various boards and commissions.
Auditors
The Board of Auditors meets annually to audit Township accounts and set wages for Township Supervisors who are employed by the Township. The Auditors are elected by the qualified voters of the Township to serve six-year terms.
Zoning Hearing Board
The three members of the Elizabeth Township Zoning Hearing Board must be residents of the Township and are appointed by the Board of Supervisors to serve three-year terms. Provisions for special exceptions or variances from the Zoning Ordinance are administered by the Zoning Hearing Board.
Planning Commission
The Planning Commission consists of seven Township residents appointed by the Board of Supervisors to serve four-year terms. The Planning Commission reviews subdivision and land development plans and provides recommendations and comments to the Board of Supervisors and Lancaster County Planning Commission.